---
Previous Events
"When Thirteen Moons Entwine"
a textile arts event in the Outaouais
late summer/early fall 2010
integrating textile arts with the natural environment
and the mythology of the thirteen moons
"When Thirteen Moons Entwine" is a professional textile arts event, inspired by the legends of the thirteen moons of the natural lunar calendar. It is an outdoor laboratory that brings together established professional textile artists with young emerging artists in the creation of textile arts installations along a scenic walking path. This festive event includes exhibitions, workshops and conferences at Moon Rain Centre in the Gatineau Hills in the Outaouais region of West Quebec, and collaborates with major exhibition centres in the region to present textile arts exhibitions during the late summer and early fall of 2010.
Vision Circle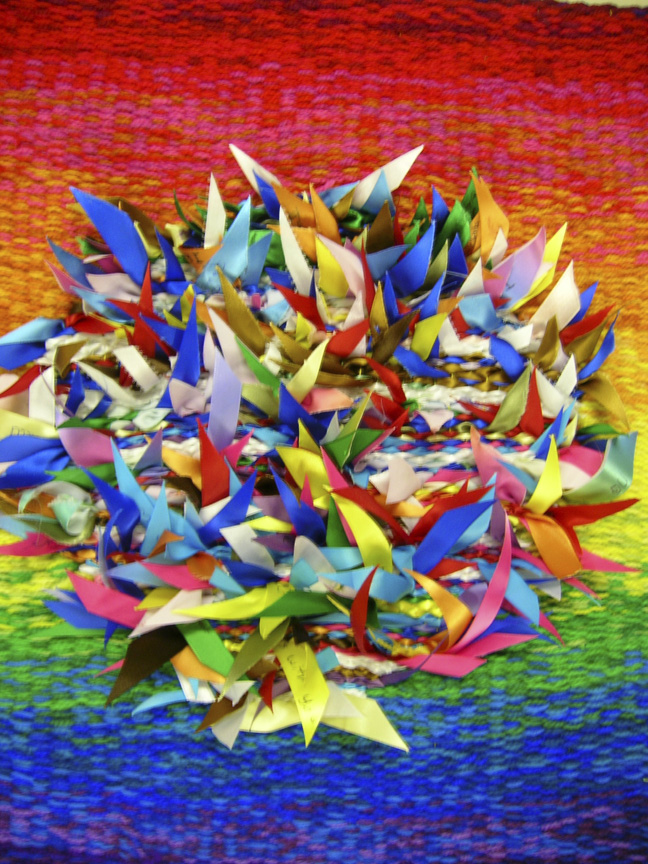 This is a photo of the "Vision Circle" community weaving project which Thoma and Gabby directed at Ayer's Cliff Elementary School, in February 2010. Every student participated by writing a message, hope, wish or vision for the Earth and for our global collective future. The visions were written on ribbons that were interwoven into the tapestry, filling the circle. The visions were also recoded as text messages to be used by the school community.
It was a very happy project to direct, filled with energy, vitality and hope. The finished tapestry is permanently installed in the school, where everyone can enjoy seeing it.
---
FIBRES BORÉALES ~ NORTHERN FIBRES
une exposition en tapisseries haute-lisse et l'art de la fibre, créées par un groupe
d'artistes membres du Centre Moon Rain
a group exhibition in tapestry and fibre arts by artists and members of Moon Rain Centre
du 6 au 27 septembre 2009 ~ September 6 to 27, 2009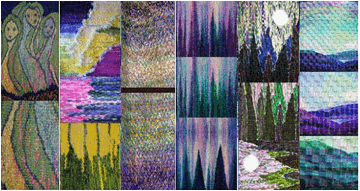 explorant le thème de l'aurore boréale ~ exploring the theme of northern light
rencontrez les artistes ~ meet the artists :
Françoise Chartrand
Denise Coker
Thoma Ewen
Hope MacLean
Krystyna Sadej
Phyllis Wedding
le 6 septembre 2009 à 13:00 ~ September 6, 2009 at 1:00 pm
Centre d'action culturelle
de la MRC Papineau
3, rue Principale
St-André-Avellin, (Qc) J0V 1W0(819)
983-2027
mardi au vendredi de 9 h à 12 h et de 13 h à 16h ~ dimanche de 13 h à 16 h
Tuesday to Friday - 9:00 to 12 noon and 1:00 to 4:00 pm ~ Sunday 1:00 to 4:00 pm
The Big Weave
Reading, England
July 6 - 26, 2009
Moon Rain Centre has been invited to direct The Big Weave Community Tapestry Project in collaboration with Maiden Erlegh Community Arts School, and weavers Moira Diane Wood and Caroline Marriott. For information on how to participate in the project and the schedule of weaving venues in the Reading area, please contact Moira Diane Wood at http://www.linenworks.co.uk
---
Exhibition in Ottawa, Ontario extended to July 31, 2009
---
Moon Rain Centre at the Canadian Museum of Civilization
Weaving a Vision for the Earth
Join special guest Thoma Ewen to create a tapestry inspired by Earth Day.
Event Type: Free with Museum admission.
Location: Riverview Salon
Dates April 18 and April 19, 2009 from 11:00 AM to 3:00 PM.
Audience: Adult Family
Booking Info: Free with Museum admission.

Join special guest Thoma Ewen to create a tapestry inspired by Earth Day. Write your visions, messages and wishes for Earth and weave them into a communal work of art. Families can also create a personal mini-tapestry to take home.
---



Tapestries From Moon Rain, June 2-20, 2008, Bibliotheque de Lyon, Lyon, France


Thoma Ewen, artiste-licière canadienne et directrice artistique du Centre Moon Rain, pratique son métier depuis plus de trente ans. Sa philosophie est nourrie par l'ancienne sagesse amérindienne qui attribue au tissage des pouvoirs spirituels et énergétiques.

jeudi 5 juin à 18h30
vernissage de l'exposition Thoma Ewen animera des ateliers de tissages pour les adultes et les enfants pendant toute la durée de l'exposition.
Tapestries From Moon Rain June 22 - 29, 2008, La Chapelle, Roquebrun sur
Argens, France

Northern Fibres / Fibres Boreales, April 20 to July 6, 2008, a group exhibition in tapestry and textiles at the Chelsea Library, Old Chelsea, Quebec
Greetings!
We are pleased to announce a most exciting and unusual textile arts event, which is to be held in the studios at Moon Rain Centre in the Gatineau Hills, on July 7-8, 2007.
We look forward to seeing you at Moon Rain and hope that you will share this invitation with enthusiastic colleagues and friends.
Should you have any questions please do not hesitate to contact Moon Rain by telephone at 819 457-9711.
OPEN STUDIOS at MOON RAIN
Moon Rain opens its doors on Saturday July 7th and Sunday July 8th 2007, from 10.30am - 5.30pm. We invite you to join us in celebrating 28 years of tapestry weaving in the Gatineau Hills.
We welcome you, your guests and friends to drop in, say hello and meet the artists; enjoy the exhibitions and discover the creativity and tranquility that is so much a part of Moon Rain. Plan to sample the delightful hors d'oeuvres that chef Chris Hudson will be preparing each afternoon; and perhaps follow the trail that winds along the creek to the waterfall. The event will close with a potluck supper on Sunday – all are welcome!
Five talented textile artists from the region will be exhibiting their works:
Denise Coker – painted textile constructions
Thoma Ewen – woven tapestries
Andie Haltrich – contemporary textile art
Jocelyne McNicholl – textile paintings
Gabriel Ewen Phillips – organic clothing
Denise Coker, Thoma Ewen and Jocelyne McNicholl have each exhibited nationally and internationally. Their original and varied approaches offer a spectrum of contemporary textile art. Works by these three artists are included in public, corporate and private collections worldwide. They are joined by two emerging textile artists: Andie Haltrich, who is known in the region for her mosaic installations, recently graduated from Concordia University and is currently exploring textile art; and Gabriel Ewen Phillips, who was the featured designer at the Mississippi Valley Textile Museum's annual fashion show in 2005, and is currently completing studies in haute couture at Richard Robinson School of Fashion Design.
Moon Rain Centre for Tapestry Arts is a non-profit cultural organization dedicated to integrating creativity and harmony in the community through the creation, exhibition and teaching of tapestry arts. The name Moon Rain refers to the mystical connection between the moon, weaving and the cosmos.
Thoma Ewen is artistic director of Moon Rain - her vision is to share the beauty and mystery of WEAVE.
Once again this year, Tapestry Workshops will be held at Moon Rain.
Moon Rain Centre for Tapestry Arts
105 Savane, Poltimore,
Val-des-Monts, Québec
J8N 3B6
819 457-9711