The Living Tapestry Workbook
an introductory guide to designing and weaving tapestry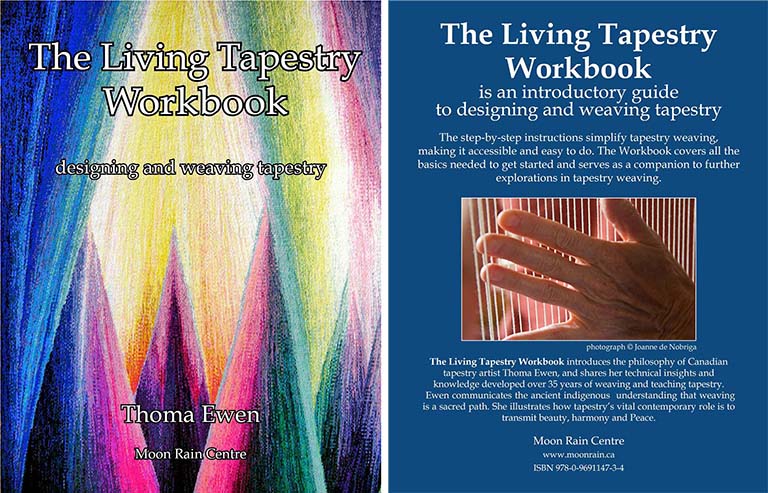 The Living Tapestry Workbook is an introductory guide to designing and weaving tapestry. The step-by-step instructions simplify tapestry weaving, making it accessible and easy to do. The Workbook covers all the basics needed to get started and serves as a companion to further explorations in tapestry weaving.
The Living Tapestry Workbook introduces the philosophy of Canadian tapestry artist Thoma Ewen, artistic director of Moon Rain Centre, and shares her technical insights and knowledge developed over 40 years of designing, weaving and teaching tapestry. Ewen communicates the ancient indigenous understanding that weaving is a sacred path. She illustrates how tapestry's vital contemporary role is to transmit beauty, harmony and Peace.
"I ordered your book about a year ago, and it is amazingly life changing for me as a Tapestry Artist! What a gift your book has been to me personally in my own tapestry journey." Donna Wynn, USA
"So many texts on tapestry focus on the mechanics of weaving alone and don't give voice to enhancing other skills in support of cultivated woven expression; yours does." Louise Adams, Germany

The Living Tapestry Workbook is $30.00 (CDN) at Moon Rain Centre.
The prices below (all in Canadian dollars) include shipping and handling. Click the book cover next to your shipping destination to order through PayPal:
American Tapestry Alliance members contact Moon Rain directly Moon Rain Centre